Defensive Pistol 301 – Shooter Skills for Concealed Carry
Course Length:
6 Hours
Prerequisites: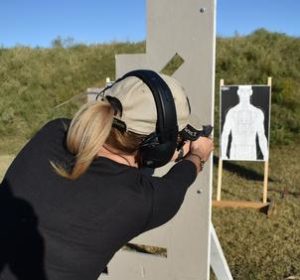 This course is for adult individuals who are not disqualified from possessing a firearm as defined by applicable federal, state, or local law and are experienced shooters (shooters able to show mastery of the basic skills of safe gun handling, loading and unloading, shooting a group, zeroing the firearm, and cleaning the firearm). This is an advanced class.
Prospective participants can demonstrate that they have the requisite knowledge, skills, and attitudes by producing at least one of the following credentials:
NRA Basic Pistol certificate, (*preferred) or
NRA First Steps Pistol Course Certificate, or
NRA Pistol Competitive Shooting qualification card, or
Military DD 214 with pistol qualification, or
Texas LTC (CHL) shooting test with a 90 percent (225 points) or higher score, or
INTEGRITY FTC Handgun 101, or instructor approval.
We provide: Eye and ear protection are available, targets. Complimentary sodas and bottled water during breaks.
Bring with you: Your handgun, your holster, mag pouch that holds at least 1 magazine (on your belt or may use pocket), and a gun belt is recommended. (Let us know and we may be able to loan you some of this equipment). A good attitude, 200 rounds of ammunition. Further instructions will be emailed after registration.
Course Description:
This module focuses on technique and the development of the defensive mindset and is for people seeking additional training and skills to accompany their concealed firearm permits. Therefore, all topics involve working from your holster.
Those who choose to carry outside the home NEED to know these techniques.  Topics include correct draw from strong side belt holster (method as taught by most reputable shooting academies and Law Enforcement), drawing from concealment, speed reloads during live fire, clearing malfunctions during live fire, defensive pistol accuracy, shooting around cover, alternate shooting positions, shooting while moving, multiple target engagement, point shooting and more.
Students should expect to shoot approximately 150 – 200 rounds of ammunition. The defensive pistol modules are objective based. Do not be discouraged if you do not have all the gear needed for this class. We are happy to provide you equipment on a limited basis and help you select and train with the best equipment suited for your person and lifestyle.
Whether you are just about to get your License to Carry or have been a permit holder for a decade, this class is for you.
See also Personal Protection in the Home, Personal Protection Outside the Home, NRA Defensive Pistol Courses, and AR-15 Advanced Rifle Marksmanship ​​For Personal Defense