TEXAS LICENSE TO CARRY CLASS INFORMATION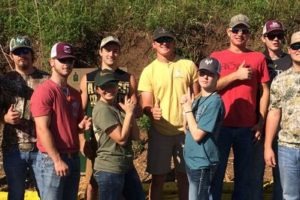 ​​Licensed to Carry (LTC) replaced Concealed Handgun License (CHL) terminology starting January 1, 2016 due to the laws passed by the 84th Texas Legislative session. The class format, proficiency test (shooting test) and 4 core topics previously taught in Texas CHL will continue to be taught for LTC with modifications and additions to take into account the new laws. In other words, for all practical purposes the LTC class is still a one day class and still has the same requirements and structure as the CHL class.
LTC Class Dates: 
As our most popular class, we offer TX LTC monthly and upon request!
Often the 3rd and 4th Saturday of each month. Visit the calendar to register.
Groups of 10 or more may request special dates outside of posted schedule.
LTC Class Cost:
All LTC rates include range fees and have no other hidden costs. Military discounts require copy of DD-214.
Standard LTC – $65
Veteran (honorably discharged) and TAMU corps of Cadets (enrolled) – $55
LTC Course Overview:
The core course material length is 4-6 hours (regulated by state law). The actual class is one day. This will include time for breaks, written test, range time, and shooting qualification.
Students must pass the written test with a minimum score of 70% and pass the proficiency test (shooting test) with a minimum score of 70% (175 points out of 250).
Classroom Location: 
Offered at multiple venues. See the schedule for posted locations.
Range Location:
The shooting qualification is done at a local outdoor shooting range. Details will be given after registration. We prefer an outdoor range for our classes and training.
LTC Application Process
It is not necessary to initiate the online application with DPS prior to our class, but the sooner you apply, the sooner you will complete the process and get your license in the mail. You can initiate your online application with DPS at the following website link:https://txapps.texas.gov/txapp/txdps/chl/
Written Test and Proficiency Test (Shooting Qualification):
In order to earn your LTC certificate with this class you must pass the standardized Texas DPS written test with a score of 70% or better AND Pass the standardized Texas DPS Proficiency Test (shooting test) with a score of 70% (175 points out of 250). Don't worry! We will give you step by step directions in the class and on the range!
Come Prepared:
Please know how to operate your handgun and practice shooting your gun before class. You must also be able to engage your safety routinely if your gun comes equipped with a safety.
I strongly recommend taking our Handgun 101 class before the LTC Class if you have never fired your firearm or if you need help with gun safety and marksmanship skills. The Handgun 101 will provide you the tools and foundation needed to help prepare you for the LTC shooting test.
Know and be able to load (and unload) your own magazines (semi-automatics) and cylinders (revolvers). Some magazine springs are stiffer than others, especially new ones. You will need to be able to load from 6 to 10 rounds into your magazine.
You will be shooting on a "line" along with other people. This tends to make some people nervous if they have never shot this way before. So practice safe gun handling and shoot your gun before class!
New laws passed in Texas
A Partial Listing of the New Laws Passed in the 84th Regular Legislative Session that impact Concealed Handgun Licensing.
​Open Carry. House Bill 910 Effective: January 1, 2016.
Relating to the authority of a person who is licensed to carry a handgun to openly carry a holstered handgun.
Campus Carry. Senate Bill 11 Effective: August 1, 2016.
Relating to the carrying of handguns on the campuses of and certain other locations associated with institutions of higher education.
There is a lot of misinformation going around about these and other new laws. We recommend you go straight to the source for clarification. See the full summary of these new laws and many others directly from the ​Texas DPS website:
http://www.dps.texas.gov/RSD/LTC/Legal/newlegislation.htm

Recommended steps to getting your license to carry:
Check eligibility requirements online with Texas DPS. http://www.txdps.state.tx.us/rsd/chl/index.htm 
Apply online with Texas Department of Public Safety (DPS). https://txapps.texas.gov/txapp/txdps/chl/   (all the following are completed with this step). Submit an application, pay the required fee, initiate background check. Schedule electronic fingerprint appointment .
Pick a date and register for our License to Carry class. Payment is due at time of registration.
Go in person to your scheduled appointment for electronic fingerprints. These will be submitted electronically on your behalf.
Know how to safely handle, manipulate and shoot your handgun. Practice! If you are a novice shooter or need help selecting and purchasing a handgun then you should take as a minimum our Handgun 101 class. If you already own a handgun you may also take our Handgun 101 to further establish and build upon your skills. Visit our handgun page for more info. If you are in our LTC class and do not exhibit handgun safety you may be asked to come back at a later time for your  safety and the safety of other class members.
Complete the LTC class with INTEGRITY FTC! Pass the standardized Texas DPS written test with a score of 70% or better. Pass the standardized Texas DPS Proficiency Test (shooting test) with a score of 70% (175 points out of 250). You will then earn and be given the LTC-100 Certificate of Training.
Scan and upload the LTC-100 that you received from our class to the DPS website.
Pass the background check. This may take a while depending on your application and conviction history. (Keep checking the DPS website for status). (You can take our LTC class at anytime, even while your background check is processing).
Wait to receive your license in the mail! (This could take from several weeks to several months depending on number of applications being processed).
Continue firearm training and knowledge. Keep current knowledge of ever changing laws.
Resources:
Read what the Texas Concealed Handgun License Laws actually says; print out this document (LTC-16) and get familiar with it before class. LTC-16.pdf
Be familiar with the Course of Fire performed in the proficiency test (shooting Test). CHL_Shooting _Test TEMPLATE.pdf
​​​The B-27 target (shown) is the official target used in the course of fire. The black numbers shown are for reference only and indicate the scores for those areas of the target. The colors allowed by statute are red, green, black and blue. Students must score a minimum of 175 points with 50 rounds of ammunition in order to pass.