HANDGUN CLASSES
FIREARM INSTRUCTION IN COLLEGE STATION
Many beginning shooters "peak" at shooting paper at the local indoor range, and have no avenue or knowledge for advancement. This is simply not acceptable, especially to those who have chosen to carry a handgun for personal protection. As a minimum, this is frustrating for all shooters as their irregular visits to the range may result in inconsistencies, having good days and bad days at the range. There simply may be no good form or muscle memory in which to draw.

Other shooters become somewhat proficient at shooting at paper and never grow from there. Others may then attempt to take a formal class. Oftentimes the student over estimates their skills, and may get into a situation where the class is frustrating, or not fulfilling or helpful due to these gaps in training. Most Professional instructors can attest to someone signing up for and attending a class thinking they have the fundamentals, and then awkwardly trying to keep up. In some situations, these shooters are pulled from the line due to safety concerns. Many students (especially male) want to skip the basics and go straight to the 'tactical' classes. This is a serious error in thinking.
As a professional firearms instructor, I have witnessed first-hand the most common problem for shooter development is that most shooters have large gaps in their training, if they have been trained at all.
INTEGRITY FTC believes in well-conceived and planned curriculum, not just a list of random courses in a catalog. We believe training and development should be a fabric that interweaves one mastered skill seamlessly to the next introduced skill. This is not a foreign principle in any other sport, so why should it be different for shooting? It is not.
Handgun 101 – Fundamentals of Handgun Safety, ​Operation, and Shooting
Course Goal: To give the student a solid foundation in handgun safety, operation, and marksmanship, and prepare the student to shoot independently with confidence.
Course Length:
6 Hours (includes short break for lunch)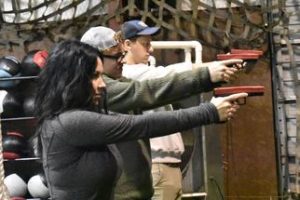 ​
Prerequisites:
Must be 19 years of age minimum. (under 18 if accompanied by an adult).
We provide: Loaner handguns with ammunition, eye and ear protection, targets.
Bring with you: Good attitude, your handgun if you have one (optional), 50 rounds of ammunition minimum. Further instructions will be emailed after registration.
Course Description:
This class is an introduction to basic handgun safety, handling and operation. This class will also help you select the right handgun for you prior to you purchasing one. If you already have a handgun that is fine too, we will help you get familiar with it and train with it.
Topics covered include safe gun handling, parts and operation of a handgun, hand grip, shooting stance, eye dominance, sight alignment and sight picture, breathing control, trigger control, loading and unloading, and classroom drills with our laser training pistols. We finish the class at the range with live-fire of handguns to put your skills to use.
This class is offered for small groups often 12 students or under. Larger classes available upon request. We also host a Ladies Only Class several times a year, which has gained popularity. This class is HIGHLY RECOMMENDED TO ANYONE WHO IS THINKING ABOUT GETTING THEIR LICENSE TO CARRY (LTC). The Texas LTC is a CERTIFICATION class and does not teach you how to shoot a gun; This handgun 101 class is a TRAINING class and does exactly that.
This is a great class for someone who has never fired a handgun before and for the person who needs to brush up on their skills and develop a solid foundation. Choose INTEGRITY FTC for firearm instruction.
Handgun 201 – Shooter Development Course
Course Goal: To make the student more comfortable and proficient with handgun marksmanship by introducing stress through timed drills, exercises, and coaching.
Course Length: 3 Hours
Prerequisites: Must be 19 years of age minimum. Handgun 101 preferred or intermediate level shooter. Must be able to shoot a group at 7 yds.
We provide: All targets.
Bring with you: Your handgun in a range bag. 200 rounds of ammunition minimum. Further instructions will be emailed after registration. You do not need a holster or magazine pouch for this class, however you are welcome to bring a holster and train with it if you are trained and proficient with draw from holster.
Course Description:
There are literally hundreds of drills available to shooters of all levels and for all purposes. The purpose of any drill is to make you better at your chosen craft. Handgun shooter development is no exception.
Considering the economy of time and resources, we have painstakingly determined several shooter drills that will make you a better shooter. These drills are conducted with a timer, and you are given a record of your accuracy and speed to take home with you. This gives you a baseline of data and a measurable starting point for your growth. Not only are they good drills by themselves, but they are arranged in an intentional sequence to progressively build one over the other. We have run our instructors through these drills and have witnessed their excitement as they see their shooting improve as well!
In addition, we are also there to coach you to make sure you get good reps and not bad ones. When you complete this class, you will have the tools to continue in qualitative skill development. The rest is up to you!
Defensive Pistol I and II- Shooter Skills for Concealed Carry
Defensive Pistol 1
Course Goal: To introduce and train the fundamentals of handgun self-defense from covert carry.
Course Length: 6 Hours
Prerequisites: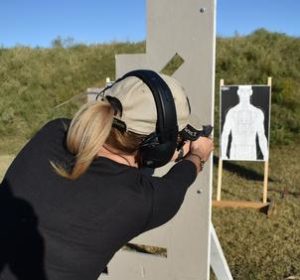 This course is for any individual who covert carries a handgun lawfully. This is an Intermediate level class. This is where you START to learn defensive handgun skills including draw from holster and concealment. You must possess basic handgun safety and marksmanship skills prior to this class. Handgun 101 preferred.
We provide: Eye and ear protection are available, targets. Complimentary sodas and bottled water during breaks.
Bring with you: Your handgun, your holster, 3-magazines minimum (4 preferred), mag pouch that holds at least 1 magazine on your belt (or you may use pocket), and a gun belt is recommended. (Let us know and we may be able to loan you some of this equipment). A good attitude, 200 rounds of ammunition. Further instructions will be emailed after registration.
Course Description:
This module focuses on technique and the development of the defensive mindset and is for people seeking additional training and skills to accompany their concealed firearm permits. Therefore, all topics involve working from your holster.
Have you tested: your mind, your gun, your holster, under stress?
Those who choose to carry outside the home NEED to know these techniques. Topics include correct draw from strong side belt holster (method as taught by most reputable shooting academies and Law Enforcement), drawing from concealment, speed reloads during live fire, clearing malfunctions during live fire, defensive pistol accuracy, shooting around cover, alternate shooting positions, shooting while moving, multiple target engagement, point shooting and more.
Students should expect to shoot approximately 150 – 200 rounds of ammunition. The defensive pistol modules are objective based. Do not be discouraged if you do not have all the gear needed for this class. We are happy to provide you equipment on a limited basis and help you select and train with the best equipment suited for your person and lifestyle.
Whether you are just about to get your License to Carry or have been a permit holder for a decade, this class is for you.
Defensive Pistol 2
Info will be posted soon!
Small Group Training – Handgun
Course Goal: To provide a 'work-out' with your handgun and holster to improve speed and accuracy by movement drills and scenario stages.
Course Length: 2.5-Hours
Prerequisites: Must be 19 years of age minimum and in good physical shape. Intermediate level shooter or LTC preferred. Must be able to shoot a group at 7 yds. Must be able to draw from holster and engage targets safely.
We provide: All targets.
Bring with you: Your semi-automatic handgun, G19 or similar. 200 rounds of ammunition minimum. 3 mags minimum, 4 + preferred. OWB Kydex holster preferred however may use covert carry if trained prior. Further instructions will be emailed after registration.
Course Description: This is a FUN class that keeps you and your gun moving. Monthly trigger time and skill development is essential for the serious student and shooter. 6-8 scenarios or drills are chosen per class. Many of the drills involve running and gunning so good physical condition of the student is required and a desire to grow as a shooter.