Rifle Classes
​​​Rifle 101
Course Goal: To provide the student a solid foundation in rifle safety, operation and marksmanship fundamentals.
​​Course Length: 6 Hours

​​Prerequisites: Must be minimum 18 years of age. Youth classes available on request.
We provide:
Eye protection, ear protection, targets.
Bring with you: Your firearm (rifle), good attitude, 50 rounds of ammunition minimum. Further instructions will be emailed after registration.
Course Description:
This course is designed to provide a hands-on introduction to the safe handling and proper orientation of the participant's rifle. However, participant's who do not yet own their own firearm may use a firearm provided by the Trainer. Through this course, the student will learn about rifle safety, parts and operation, introduction to ammunition and the fundamentals of rifle shooting, shooting positions, rifle cleaning and storage. This is a great class for youth and adults alike who have never handled and shot a firearm and do not know where to start. Start here!
Carbine (AR15) Classes
​Integrity FTC firmly believes in the Crawl-Walk-Run method of instruction and learning. We have taken this approach in developing all of our classes, including our Defensive Carbine classes. We offer these courses in both coed and ladies only classes. Contact us if you have a group or team and would like to schedule a private class.
Instructors for this Course: ALL instructors for this class have been vetted and trained for safety, skills, and the ability to instruct. Most of the Instructors assisting for the Defensive Carbine classes are combat veterans.
Legal Prerequisites:
​U.S. Citizens only may take this class, due to ITAR Compliance. We reserve the right to ask for Primary Proof of U.S. Citizenship (examples include a certified Birth Certificate issued by the State, or a Naturalization certificate, or a passport).
Students must also be able to legally possess a firearm and be a minimum of 18 years of age. Youth classes available by appointment.
Physical requirement: Moderate to mildly strenuous activity. Student must be in good physical and mental health and be able to stand outside for extended periods of time. Must be able to get into prone, kneeling and standing positions.
Defensive Carbine – 1
Course Overview:
This course is designed to teach intermediate operation of the AR-15 rifle with an emphasis on personal defense and short range marksmanship. Defensive Carbine – 1 is only available for intermediate to advanced shooters familiar with the AR-15 weapon system. The defensive 'essentials' taught in this class include movement, strong hand and off hand shooting, speed reloading, immediate action drills and more. The feedback from our military community has been highly charged! The round count we offer through this class is more than many veterans and LE have been exposed to in training. This type of training is not available anywhere around that we have seen.
​Skill Prerequisites: Must be familiar with the safety and operation of the AR-15 weapon system that includes knowledge and skills of loading, reloading, unloading and make safe, sight alignment and basic marksmanship. Must be able to shoot a minimum 8″ group from standing at 10 yards. Must demonstrate safe weapon handling skills at all times.
​Course Length:
6 hours.
Course Objectives:
Learn the safety rules for handling and operating an AR-15 weapon system.
Learn the immediate action drill for an AR-15 weapon system. (how to clear a gun stoppage).
Learn speed reloading (mag change), unloading, and clearing an AR-15 weapon.
Learn the close range aiming fundamentals of sight offset, point of aim vs. point of impact and the effects of different zeroing strategies.
Learn the presentation position of low ready and fight.
Learn movement while shooting. This includes forward, rearward, and lateral movement while shooting.
Learn strong-hand and off-hand shooting.
Learn firing techniques of taking single, double and multiple shots on target.
Learn target acquisition of single and multiple target engagement.
Learn cadence techniques of distance – time relationships.
Learn the shooting positions of prone, kneeling and standing, and shooting around a barricade.
We provide:
Eye protection, ear protection, targets. Extra magazines and gear available if requested in advance.
STUDENT EQUIPMENT NEEDED:
AR-15 Semi-auto, magazine fed rifle. Allowable calibers: .223/5.56, .300BLK (16",18", SBR, suppressed ok.)
4 mags minimum, (you can borrow a few from us, check for availability ). 30 round mags preferred.
Ability to carry at least one rifle mag on your belt/body. You may also draw mag from pocket. Battle belts with 2 mag pouches work great for this but are optional.
Rifle sling. The rifle will be on your body or on a rifle rack at all times once the class begins.
400 rounds of rifle Ammo. M855 (62 grain) or M193 (55 grain)
Hat with bill, long pants, closed toe shoes, no loose collar shirts.
Eye and ear protection. Electronic ears preferred but not required. (we have a few if you need to borrow).
Glove for the support hand, rifles get hot.
Weather appropriate clothing.
Optional – Chest rigs, tactical vests, are allowed to hold extra mags on body.
Optional – knee pads
Optional but recommended- Dump pouch
INSTRUCTOR NOTE: Plan for Murphy; bring a back-up rifle if you have one, back-up gear, extra batteries for your red dot, extra mags, cleaning kit. Mark your mags with a paint pen or similar means so we know who they belong to.
Defensive Carbine – 2
Info will be posted soon!
Small Group Training- Carbine/Handgun
– New for 2021!
Course Goal: To provide a 'work-out' with your carbine and handgun to improve speed and accuracy by movement drills, transitions, and scenario stages.
Course Length: 2.5-Hours
Prerequisites: Must be 19 years of age minimum and in good physical shape. Intermediate level shooter or LTC preferred. Must be able to shoot a group at 7 yds. Must be able to draw from holster and engage targets safely.
We provide: All targets.
Bring with you: Your AR-15 and semi-automatic handgun, G19 or similar. 200 rounds of rifle ammunition and 200 rounds of pistol ammunition minimum. 3 rifle mags and 3 pistol mags minimum, 4 + preferred. OWB Kydex holster preferred however may use covert carry if trained prior. Further instructions will be emailed after registration.
Course Description: This is a FUN class that keeps you and your gun moving. Monthly trigger time and skill development is essential for the serious student and shooter. 6-8 scenarios or drills are chosen per class. Many of the drills involve running and gunning so good physical condition of the student is required and a desire to grow as a shooter.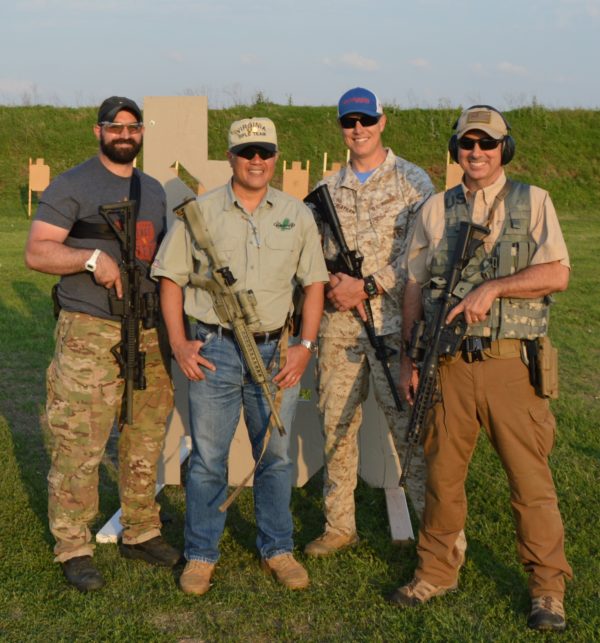 Awesome and knowledgeable crew!! Enjoyed my first Advanced AR 15 Marksmanship class with them!
I had an awesome time at the AR advanced course. I've been shooting for years but now feel so much more comfortable with an AR. The instructors are great and work with you a your skill level. I definitely recommend this to anyone who owns an AR.
Well done by the team of Veterans from Integrity Firearms Training Center! You guys did a great job passing along your years of experience.
I had a great time at the class this weekend and really found some areas where I need some improvement. Thanks for all your hard work.
The training and round count for this class is something that I did not experience even when I was in the service!