TEXAS LICENSE TO CARRY CLASS INFORMATION
RANGE QUALIFICATION ONLY – $100.00 SEE OUR CALENDAR
If you have already successfully passed your online classroom instruction with any certified Instructor and received your LTC-101, then you can sign up to complete your Range Qualification with us! See our calendar for dates. If you are going to take the range qualification with our company, you must be prepared, be familiar with the course of fire, be proficient in using and operating a handgun, and meet our safety policy.
You WILL be given 1-2 hours of range instruction in the classroom prior to range qualification. If we determine that you do not know what you are doing in safe and proficient gun handling, you WILL BE SENT HOME.
We DO NOT allow .22 caliber handguns and AR Pistols for this qualification.
PRIVATE 1-on-1 RANGE QUALIFICATION – $125 SEE OUR CALENDAR  (Select Personal Coaching)
IN-PERSON INSTRUCTOR (Traditional method) – $99 SEE OUR CALENDAR
Both in-person classroom and range qualification the same day are included in this method. Range fee included. Check our Calendar for current posted dates. We may only post a few of these classes a year.
The core course material length is 4-6 hours (regulated by state law). The actual class is one day. This will include time for breaks, written test, range time, and shooting qualification.
Students must pass the written test with a minimum score of 70% and pass the proficiency test (shooting test) with a minimum score of 70% (175 points out of 250).
The shooting qualification is done at CCC Shooting Complex in Millican TX. Details will be given after registration.
PRIVATE LTC CLASS REQUEST. $99/ Person. CONTACT US
This is the same as the traditional method of in-person instruction and range qualification the same day. Groups of 10 or more are required, but then we will set a date on the calendar that is mutually available for all parties. Email george@integrityftc.com if you are interested.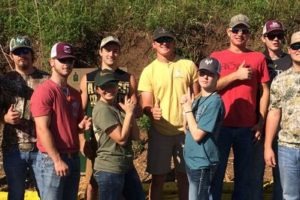 LTC Application Process
It is not necessary to initiate the online application with DPS prior to our class, but the sooner you apply, the sooner you will complete the process and get your license in the mail. You can initiate your online application with DPS at the following website link:https://txapps.texas.gov/txapp/txdps/chl/
Written Test and Proficiency Test (Shooting Qualification):
In order to earn your LTC certificate with this class you must pass the standardized Texas DPS written test with a score of 70% or better AND Pass the standardized Texas DPS Proficiency Test (shooting test) with a score of 70% (175 points out of 250). Don't worry! We will give you step by step directions in the class and on the range!
We do NOT allow .22 caliber handguns or AR pistols for range qualification.
Come Prepared:
Please know how to operate your handgun and practice shooting your gun before class. You must also be able to engage your safety routinely if your gun comes equipped with a safety.
I strongly recommend taking our Handgun 101 class before the LTC Class if you have never fired your firearm or if you need help with gun safety and marksmanship skills. The Handgun 101 will provide you the tools and foundation needed to help prepare you for the LTC shooting test.
Know and be able to load (and unload) your own magazines (semi-automatics) and cylinders (revolvers). Some magazine springs are stiffer than others, especially new ones. You will need to be able to load from 6 to 10 rounds into your magazine.
You will be shooting on a "line" along with other people. This tends to make some people nervous if they have never shot this way before. So practice safe gun handling and shoot your gun before class!
Resources:
Read what the Texas Concealed Handgun License Laws actually says; print out this document (LTC-16) and get familiar with it before class. LTC-16.pdf
Be familiar with the Course of Fire performed in the proficiency test (shooting Test). CHL_Shooting _Test TEMPLATE.pdf
​​​The B-27 target (shown) is the official target used in the course of fire. The black numbers shown are for reference only and indicate the scores for those areas of the target. The colors allowed by statute are red, green, black and blue. Students must score a minimum of 175 points with 50 rounds of ammunition in order to pass.